Ciel Fledge: A Daughter Raising Simulator
[Devlog] Streamlining The Game
---
Hi, back again to another Ciel Fledge devlog! In the past two weeks there have been a quite a lull from the development team, since we are working hard to fix an unseen but apparent problem of the game, which is pacing and play through time. Ciel Fledge is designed with having a multiple ending in mind, but… a complete play through with the current build may take around 20 – 35 hours of play time from the beginning to ending. Imagine that with a multiple ending of more than a 10 with other variants, it would be super tedious for those among us who are a completionist player. Which is why we decided to take a drastic measure to streamline the game. Rest easy that this is by no means dumbing down the game but making it more accessible and cutting down unnecessary hog in the play time. Alright, before we continue detailing what are getting streamlined in the game so far, here is some artwork of Becky (apparently she is quite popular with the players, everybody loves hoodie girl)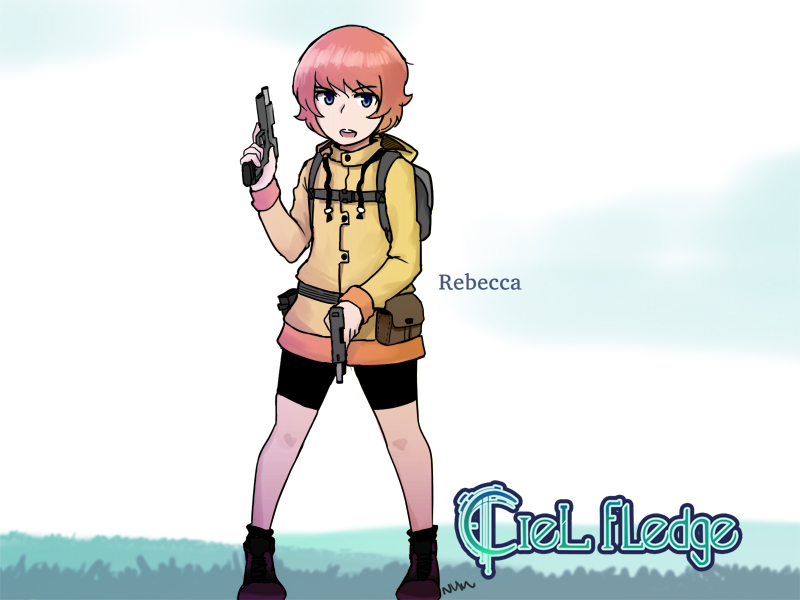 Streamlining The Scheduling Process
The "main engine" of the game is the scheduling window. This is where the player decide Ciel's schedule and hone her potential in the future. So much have been put into detail here, but then again, sometime, too much detail is not always equal of being good. After rigorous testing, we decided that the 7 day slots + 2 auxiliary (player activity and meal) slots configuration is too complex for its own good to the point of making the game unnecessarily tedious. For that very reason, we overhauled the slots configuration to 3+1 "day" slots and 2 auxiliary slots configuration. You can see how it looks like in the screenshot below:

With the new "3+1" day, all activities, training, and jobs now take 2 day slots on the weekday. You can not do miscellaneous activities such as shopping, social on weekdays. There is now a dedicated "weekend" slot (bottom slot, with blue button and no.4) where you can do miscellaneous activities freely and training/jobs with weekend penalties to simulate the disdain of working and go to school in weekend.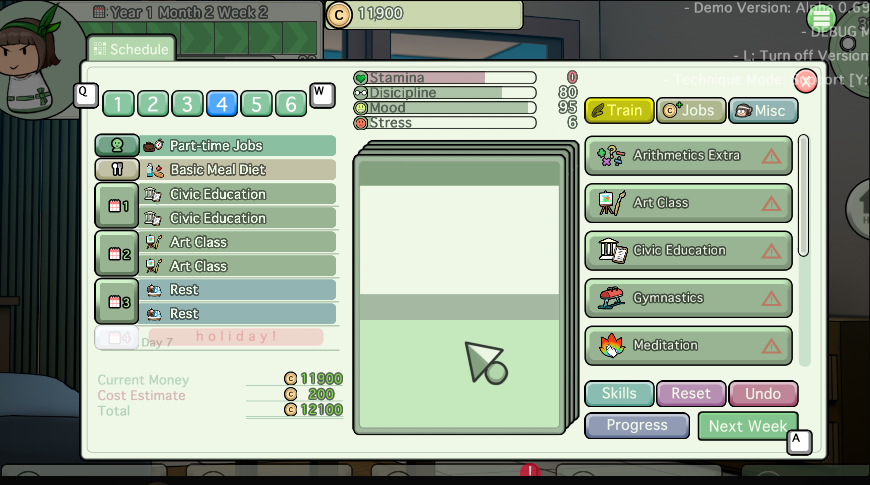 Aside from the change of how scheduling works, its visual get an overhaul too. You can already notice by comparing the first and second screenshots, that you can now freely choose between "grid view" and "list view" for all the activities. Sort buttons, which rarely utilized now completely gone. All information of the activities now is in the center, displayed in some sort of "trading card" view for more complete and concise information, including stamina cost and such. Probably the biggest addition is the "forecast" information on top of the "trading card" view, displaying the four stats, Stamina, Discipline, Mood, Stress which immediately get "simulated" depending on what activities you pick. This way you can prepare and plan your adopted daughter weekly activities better.
Battle and Techniques

Another in line for the streamlining ax is how battle and techniques works. Battle still works the same but it is now more consistent with each activities. Technique on the other hand, previously near to necessary and useless, now may prove helpful and may be the one to save you in a losing battle. Technique slots gone from three to two, in exchange, there is now a "Power Up" technique that Ciel can always use in every type of battle. Technique now is also more specific to the type of battle, you can no longer use them everywhere. Fight Battle Technique only work on Fight Battle, Score Battle Technique only work on Score battle and so on. Aside from all those adjustment, there is also under the hood balancing adjustment and enhancement to make battle more enjoyable, fair, and rewarding to the player. You can see how "Power Up" works in the video below:
Experimental Demo
With the major streamlining changes detailed above, another aspect of the game that will get streamlining is Exploration, but let's leave the detail about it in the next devlog. For those of you who want to try the newest, experimental build, you can find the download link and the changelogs on our Discord server here: https://discord.gg/KywHrWV.
Why should the download link be on the discord server? Because considering the experimental nature of this demo build, it may not be stable and prone to bugs/crash and everything may be changed depending on the feedbacks from the players. Report about bugs/crash, feedbacks, and critiques can be delivered quickly to us on our discord server. Also with all the streamline changes, a new tutorial explaining what they do haven't been made yet, so for new player, it's advisable that you try the stable demo build instead, which can be downloaded here: http://studionamaapa.com/2018/09/demo-release-ciel-fledge-alpha-6-demo/
That's all for this devlog, thank you for reading and see you in the next devlog!
-num
Get Ciel Fledge: A Daughter Raising Simulator