Ciel Fledge
Ciel Fledge on Kickstarter and some additional info
---
Hi everyone, thank you for playing Ciel Fledge alpha build demo! We hope you enjoy playing the demo!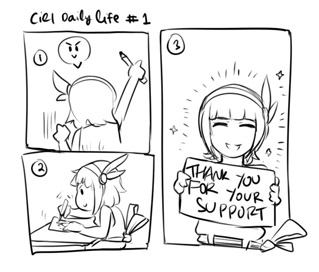 As you may know, there is a link to support us on Kickstarter in the game page. Yes, we are raising fund to further raise the game quality, mainly on the musical and sound department. If you are interested to support us, feel free to visit the page and help us spread the word!
https://www.kickstarter.com/projects/1275858615/ciel-fledge

Vertex Shader Error
There are some reports from people playing the game on Windows that encounter a crash regarding vertex shader compilation. If you ever encounter this problem please try to install this to your PC: https://www.microsoft.com/en-us/download/confirmation.aspx?id=8109
Thank you, and enjoy the game!
Files
CielFledgeWindows-v0.66Alpha
821 MB
Version alpha0.2
Oct 26, 2017
CielFledgeLinux-v0.66Alpha
825 MB
Version alpha0.2
Oct 26, 2017